Features of Flow-Rite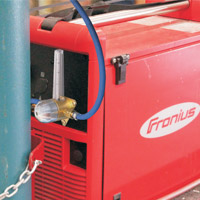 Improved Weld Quality
The Flow-rite improves weld quality due to its unique flow controlling characteristics. The Flow-rite gives a constant, steady flow from the first pull of the trigger. This consistent, even flow overcomes porosity, excessive heat affected zone, heavy spatter and other problems.

Save Time
Down time is also greatly reduced due to the decrease in gas being used. Less frequent changeover of gas packs or cylinders is required, reducing manual handling and improving OH&S. Also, better quality welds means lower reject rates are experienced and expensive rework unnecessary.

Save Money
Not only is the Flow-rite proven to save up to 25-50% of total gas used, but cylinder inventories may be reduced, saving on expensive rental.

Help the Environment
The Flow-rite delivers only the gas you need for your process and no more. This reduction in waste lessens the energy required for gas production and transportation, thus reducing carbon emissions.
Aussie Made
Loxton Industries Pty Ltd has proudly produced Australian made products like the Flow-rite since
1984.
Flow-rite complies under: AS 4267 & EN BS ISO 2503.