Flow-rite
Reduce Your Welding Costs By Thousands With Flow-rite
Over the years, electric arc welding has developed from the relatively simple electrode welder, to ever more complex processes, such as MIG and TIG welding, etc., driven by the need to improve quality and reduce costs.
One area that has not been addressed conclusively is the inefficiency and cost blowout resulting from incorrect control of welding shield gases.
Loxton Industries conducted extensive research to analyse the effect of excessive and varying gas flows on the welding process. Loxton's research found that regulators and flow meters, even operating together, cannot accurately control welding gas flows. Weld quality is often unwittingly compromised, resulting in high reject rates and costly corrective measures. Porosity, poor penetration, excessive heat affected zone and high spatter deposition are some of the problems that are affected by inconsistent and/or excessive gas flow.
Enter the Flow-rite Gas Controller
As a result the company developed the "Flow-rite", capable of saving thousands of dollars per year in expensive gas and other costly overheads. It comes with a built in flow-meter (optional) and a tamper-resistant adjusting key, allowing management to keep control of the gas flow rate settings.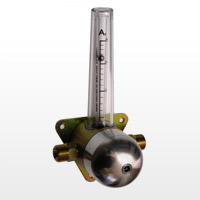 What is a Gas Controller?
Gas Controllers are on the cutting edge of process gas flow control. The typical gas regulator controls pressure only, but does not accurately control the flow. A gas controller precisely controls both pressure and flow with a proprietary mechanism, delivering steady, even flow throughout the complete welding cycle.
Loxton Flow-rite Controllers
Designed to minimise welding gas usage
Return on investment can be as low as 6 months
Will improve weld quality
Manufactured and tested in Australia
Complies to AS 4267 & EN BS ISO 2503